How to Meet Swingers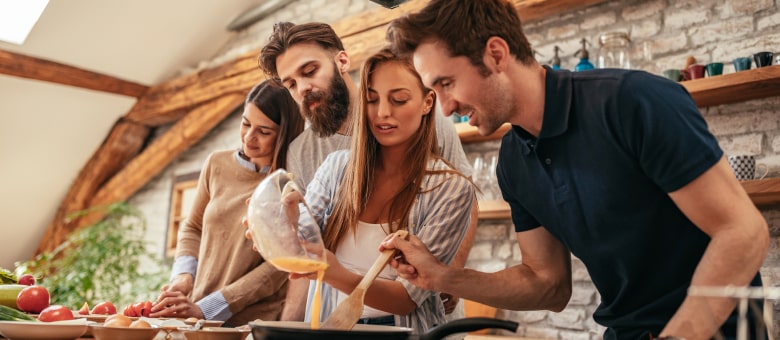 The truth is that it isn't easy to know where to meet open-minded people who are partial to swinging with other couples. Although there are problems surrounding where to find local swingers, there are certainly plenty out there seeking someone like you.
And you don't have to take our word for it. Let's take a look at the stats. A 2016 study found that around 20 percent of US citizens engage in consensual nonmonogamy, often dubbed as CNM. While CNM is distinct from swinging, in that it also includes open relationships or cuckolding, for example, it does suggest that there's a huge interest in non-traditional relationships. As it happens, this goes for Canada too, where 4 percent of c. 2000 sample revealed their personal inclination for CNM.
While that doesn't directly correlate with the number of swingers in your local area, it does suggest that monogamy is quickly and consistently falling increasingly out of vogue. After all, rejecting a conventional relationship to explore your sexual desires openly with other couples has been shown to improve partnership satisfaction and overall wellbeing.
As it happens, Swinger Lifestyle, crunched the numbers to find swingers are 14.5% 'happier and more satisfied with their intimate life' than those 'vanilla couples'. Sounds good to us.
How to Spot Swingers
Using Wonder's 2012 and 2016 stats to create 2020 estimations, it is expected that there will be in the region of 31.2 million by the end of the year, based on the projected population of 331 million. That in mind, there are plenty of swingers out there to spot! So many of which will reside in your hometown, hoping to hook up with people like you.
Of course, there's no hard and fast rules on how to find swinger couples. Despite the growing popularity in more adventurous sexual lifestyles, there remains much social stigma surrounding swinging. Try as you might, you're unlikely to find swingers in your area through family friends or in your usual social circles. It just isn't the sort of conversation that is broached over the dinner table.
That being said, when Cooper Beckett, host the renowned podcast Life on the Swingset, spoke with The Stranger, he offered the inside scoop on how to spot a swinger.
His top tip? Look out for a black ring worn on a right hand, that's a specific indication that someone is open to hooking up with other swingers. Additionally, other 'secret swinger symbols' include:
Females wearing toe rings and anklets
Couples wearing their wedding rings on their right hands, rather than the left
Pineapple door knockers
White garden rocks, pink and purple yard decorations, and gnomes
Likewise, if you're new the swinger lifestyle, finding a swingers club can feel impossible. First and foremost, find another couple you want to swap with or share with and take it from there. There are lots of websites online with details on where your nearest clubs are. Search around and choose a night that suits your preference. After all, group sex or themed nights might be too hot to handle if you're looking to ease yourself into SLS.
The Best Place to Meet Swingers
We've already touched upon some of the obstacles that stand in the way of you meeting other swingers – from social stigma to politeness. Not to mention, we're all busy people nowadays. The majority of modern men and women don't have time to snoop around searching for like-minded swingers in the neighbourhood. There's a huge demand for an effective and efficient platform that connects kinky swingers who live in the same states.
Believe it or not, the solution is as simple as online dating. No, not the mainstream kind. Registering with a vanilla dating site won't get you very far in the way of swinging. Search for a dedicated dating service for swingers in your area. Most will offer a free sign up offer, allowing you to become a member and see if the website works for you with no financial obligation.
Best of all? Unlike real-world hookups, you can be sure that all the men and women you meet on a swinging site are searching for couples, just like you are. There's no awkwardness. No walking on eggshells. No signs to look out for. It's an inclusive community that's committed to adding some kink to your relationship.
Secure, saucy chat rooms mean you can meet couple matches virtually online, break the ice and conjure up some sexual chemistry before meeting off-screen. It's all so effortless.
Don't sit on the fantasy, head online, search personals, meet couples, find local swingers clubs and let yourself be led by your libido. You're going to love it.