How to Find Horny Women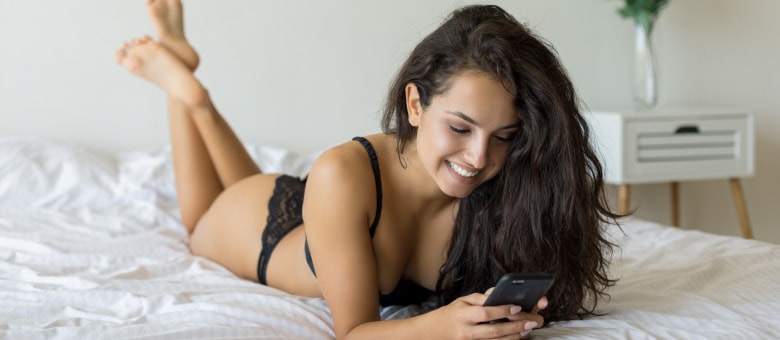 Is it possible to find horny girls in your area and, if so, how do you go about it? So many men across the USA find that single ladies are looking for something more than a one-night stand. But if all this talk of romance and long-lasting, loving relationships makes you run for the hills, know there are lots of girls out there who are led by the needs of their libido.
Better still, science is on your side. According to a study published in the Archives of Sexual Behaviour, there's been a significant increase in the number of ladies engaging in casual sex, rising from 19 percent in the late 80s to 31 percent amongst millennial men and women.
Interestingly, this correlates with the National Survey of Sexual Attitudes and Lifestyles which revealed that the average number of people a woman has slept with increased from 3.7 in the 90s to 7.7 in 2012.
Whether you accept the word of anecdotal evidence or you turn to sciences to persuade your drive, horny women are amongst us. You just need to know how and where to find them.
How to Spot a Horny Woman
According to research discussed in PsychCentral, psychologists have found that women are more turned on by the premise of a casual, sexual relationship if they take the first steps in initiating that relationship. And, this makes so much sense. Especially so, seeing as much of the narrative around good-for-nothing male 'players' revolves around men who've blindsided women into a no-strings attached hookup.
It seems that science says, so long as the ladies make the first move and flirt their way to making new friends with benefits, they're perfectly happy with hooking up for fun and nothing more. After all, deceit has never been sexy.
This considered, if you're out and about in your hometown's hottest bars and clubs, be aware of women who are coming not you quite overtly. This is different from female to female, of course, depending on personality and self-confidence, but there are some universal fool-proof signs to watch out for.
Women who are sexually attracted to guys will give off super-sexual, enticing signals. When meeting girls through friends of friends, at social events, or in public bars or clubs, girls who are into you will likely lean in as they're talking, opening their body to you. Beyond typical friendly behaviours, locked eyes, coy gazes, suggestive smiles, and brisk brushes of your arm paired with giggles all suggest that a lady is looking for something kinkier than conversation.
Ultimately, go with your gut. If you feel some erotic electricity, a sexual spark, between you and a woman you've met, be sure to check this out and confirm her intentions. Question her intentions, whispering into her ear to add to the sexual tension. Keep in mind, a consensual casual hookup on her terms is the hottest kind.
Where to Meet Horny Girls Easily
Knowing that there are free-spirited, horny women out there is certainly promising for lots of men who love casual sex. Nevertheless, often the prospect of heading out onto the dating scene and falling on the ideal female for you, by chance, makes the prospect of hooking up less likely.
In the 2020s, the majority of modern women and men simply don't have the temporal capacity in their day-to-day lives to dedicate endless evenings to the hope of hooking up. For those who love their independent lifestyle, simply wanting to satisfy their sexual needs and explore their erotic desires, there's a huge demand for an easy and effective way to connect. And, it's as simple as online dating.
Forget all you thought you knew about online dating. If you're new to meeting matches online, know that the community is huge. In fact, the main audience for dating sites in the US alone is over 90 million adults, aged from 18 to 45 years. That's right, you're a little late to the game.
Unlike dating IRL, when you choose to use a digital dating service, you can safely assume that all the people who are registered are looking for the companionship of some kind. Perhaps this is a naughty online chat, a long-term romance, or a naughty casual date. While dating sites cater to singles of all kinds seeking relationships in every incarnation.
Sign up, filter your search for those women horny for hot hookups, and browse pages of local W4M personals. In line with the science, girls who have chosen to actively look for casual encounters via an online service are initiating what is sure to become a successful sexual arrangement, whether you meet once or several times for no-strings attached sex.
Don't fall under the misconception that women always want something more than sex. As the modern world increasingly encourages independent lifestyles, career progression, a wanderlust mindset and exciting social calendars, the numbers of girls looking for a good time is only set to increase. Don't feel pressured into a partnership that's anything other than what you want. Use online matchmaking services to do dating your way. Sign up, sign in, and let the fun begin.