Signs an Older Woman Wants to Sleep with You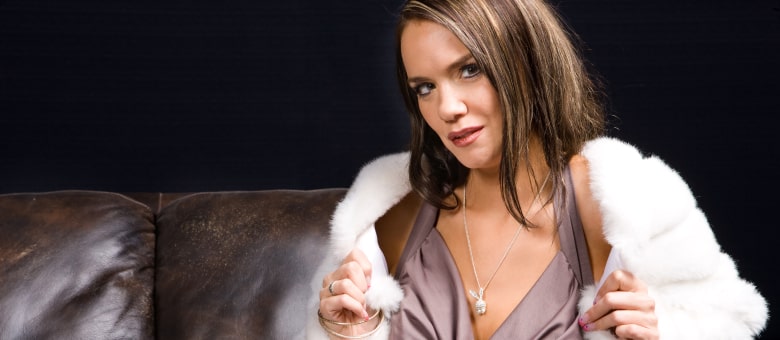 If you're searching the Web for advice on how to ask an older woman to sleep with you, you're adopting the wrong approach to dating ladies with experience.
Significantly, considering that there are unique or specific ways to engage with women of any age is largely part of the problem. When hooking up with mature women, keep in mind that your date will be aware of her age. Any reference to it or the age difference between you both is likely to be a huge turn off.
You want to revel in the ease of a new relationship, so it's important to treat your time together as an individual romance. Age aside. In doing this, you naturally take the first steps towards sleeping with your dream woman. As flirting and conversation ensues, all the signs she wants to sleep with you will be overtly apparent.
Is It Possible to Hook Up with Older Women?
Know that the odds are in your favour. As society continually breaks away from the restrictive norms of men dating younger girls, your chance of meeting a mature match is ever-increasing.
Let's allow some official stats to do the talking: the 2016 Census found that the bride was older than the groom by four years or more in nearly eight percent of marriages registered in the US. While conventional marriages are still commonplace, in today's world, there are plenty of ladies – several years your senior – seeking someone exactly like you. And that's a start.
Although non-traditional relationships remain a minority, the media has certainly glamorised dating women dating younger men. The big screen, small screen, printed press, and catwalks are inundated with women considered as cougars, from Joan Collins and Jennifer Coolidge to Eva Longoria and Heidi Klum.
The good news is, under pop-culture law, age-hypogynous relationships are no longer taboo. Whereas, in the past, a relationship with a female single several years your senior might have been a pipedream, in the 20's it's perfectly obtainable. Older women with a penchant for cubs and toy boys now have society's permission to play with that preference.
How to Make an Older Woman Want You
Despite the premise of pumas, cougars and MILFs gaining traction in our everyday life, that isn't to say that most mature ladies categorise themselves in this way. Rather than embodying dominatrix-esque personas, older women are attracted to self-assured men, no matter their age.
Female singles with years of relationship experience, aren't interested in mind games or making fickle connections. They want a guy who knows what he wants, whether you're looking for something long-term or are keen to indulge in casual encounters.
In interviewing 55 women, aged 30 to 50 years, dating younger guys, intimate relationships expert, Milaine Alarie, found that males make the first move. Specifically, there is "no radical impact on the gendered dynamic at play during intimate relationship formation" in successful age-hypogynous hookups, concurring with myriad other scholarly studies. If you want an older woman to want you, you need to step up your game and attract her attention.
How to Seduce Women into Bed
You might ooze in confidence, but that isn't to say it's easy to see your stars align with your ideal woman. After all, it's unlikely that you'll frequent the same local bars and eateries or social events as a female who's x-years senior to you.
Move with the times. Don't waste weeks, months, years, lusting after an initial intimate encounter with a mature woman when it's so easy to connect with like-minded ladies online.
Register with a specialist dating site for women seeking younger men, complete with private chat rooms. From the comfort of your own home, and with the added security of the screen, the conversation will flow, flirting will ensue, and you'll soon be arranging a first date somewhere conveniently close by to you both.
Unlike immature girls, the signs are clear when an older woman wants to sleep with you. Perhaps she'll make suggestions for romantic dates followed by a 'night-cap' at their home, become tactile in increasingly intimate areas of the body, or adopt a sexually inviting tone of voice. Stay assertive and it will be easy to read the signs.
How to Satisfy an Older Woman Sexually
You know she wants you, but what does a 40-year old woman want in bed? When contemplating how to have sex with older women, confidence will be central to your sensual time together. Mature friends with benefits will know exactly what they want in bed. What's more, they're likely to be upfront with you if you aren't quite hitting the mark.
Rather than counting on playful moves you've picked up while dating girls, invest in yourself. Hit the gym and work on your fitness to improve your stamina in the bedroom. Be open to trying new positions and kinks, too. After all, part of the appeal of dating an older woman is her unrivalled sexual experience.
The Take Home for Taking an Older Woman Home
Whether you're registering with a cougar hookup site for a risqué rendezvous or you're searching for a loving, long-term relationship, online dating is the best way to make initial connections with older women. Take your romance from chat rooms to real-world dates, and progressively read the signs along the way to be sure to score a sexual encounter in no time.